If you are looking to create an online store on WordPress, you have to install WooCommerce. But, Ecwid is a new alternative to WordPress for eCommerce plugins that challenges WooCommerce. It also offers unique features as compared to WooCommerce.
Now, it is challenging to select the right platform for your website development. In this article, we will help you choose the solution the right for your store.
We're going to compare WooCommerce vs Ecwid in six different dimensions:
Ecwid vs WooCommerce: What's unique about each one?
To begin the article, let me explain the primary differences between WooCommerce and Ecwid. Let's see the selling point for each platform without looking too deep into the features?
WooCommerce
It is a free eCommerce plugin that brings any WordPress site and results in it into an online store. For startups and mid-size growing brands, WooCommerce makes the most sense as it is flexible and easy to sell on WordPress.
For those who already have a WordPress website but looking to add an online store, WooCommerce is the solution. But, remember WooCommerce only works on WordPress.
Ecwid
Ecwid on the other end comes with a free eCommerce platform to trade anywhere. It can be your WordPress site to Facebook or Amazon to a POS. Ecwid specially works best for brands and businesses looking to sell on multiple channels and developing fast in the digital era.
A huge corporation like Amazon and Facebook uses Ecwid along with WordPress sites. In addition, it supports all site developer platforms, not just WordPress.
1. WooCommerce and Ecwid: Pricing
Let's discuss the cost of WooCommerce and Ecwid in detail?
WooCommerce pricing
WooCommerce is completely free to download and there are no plans to consider. Because the main features for the online store are all included with the free plugin, it's not unusual to pay for extensions, for approx cost $50-$200 each.
With WooCommerce, you can still get support for an unlimited number of products. In addition, WooCommerce runs on WordPress, so you must pay for potential themes, a domain name, and hosting. You'll also pay transaction fees for payment gateways.   
Ecwid pricing
Ecwid delivers a free plan rather than a free trial where you can elevate for more.
Here are the plans to consider:
Free – In a free plan, you don't have to pay anything and get access to a fundamental online store to place on WordPress or any other web development. You can also get access to social advertising, gift cards, and other supports 10 products in your plan.
Venture – In Venture, you get professional features for $15 per month. It has the ability to make a store on social media like Facebook and Instagram and Facebook. Besides, users can access features like mobile apps, discount coupons, and inventory tracking, and in total 100 similar products,
Business – With $35 per month, you will get access to sell on Amazon and eBay, along with features like abandoned cart emails, product filters, automated email marketing, and support of 2,500 products.
Unlimited – If you are looking for a professional plan including all the features, $99 per month in the unlimited plan for businesses. It comes with other tools like your own branded app, priority support, and an unlimited number of products.
Other costs to consider while choosing a platform are:
Domain name.
Potential hosting.
Website theme.
Apps.
Credit card fees.
Business Choice: WooCommerce
Ecwid comes with some limitations where WooCommerce is the ultimate favorite of users. Ecwid has a free plan though it's limited to 10 products whereas WooCommerce entitles an unlimited number of features and products for free.
Although Woocommerce is on the expensive side when businesses evaluate for the long-term. So, $99 per month for the unlimited plan from Ecwid is the right option.
2. WooCommerce vs Ecwid: The features
Ecommerce platform, Ecwid offers many features, so users can sell goods from virtually any niche. It consists of products with different variations and in the bunch. From a features point, WooCommerce and Ecwid are quite similar, yet with the unique elements to differentiate the two.
Here are the cross-selling function and payment methods:
Stripe
Sage
PayPal
A check
If we talk about shipping rates, you can charge either flat rate fees, or use real-time prices:
UPS
USPS
FedEx
If you want to expand WooCommerce's functionality, the opportunity is endless. WooCommerce is a popular eCommerce platform that has tons of features including:
Inventory management tools
The possibility of providing customers with coupons
A powerful reporting system
Integrations with: UPS, USPS, and FedEx
A type of payment methods: PayPal, BACS, or cash upon delivery
If you want to extend WooCommerce's overall functionality, there's certainly the opportunity to do so.
3. WooCommerce vs Ecwid: Coding
If a business resource possesses coding skills, WooCommerce is a wonderful plugin for web development. In addition to that, in the worst case, if WooCommerce crashes, you should be able to resolve items fast. Whereas, with Ecwid, things are different.
Using Ecwid, if you don't have any knowledge of coding, is probably the better option because WooCommerce can be frustrating.
In WooCommerce, web developers can customize the code to develop an e-commerce store to meet business needs.
Ecwid platform is specially designed to directly launch online stores without writing a code.
4. WooCommerce vs Ecwid: Customer Support
There's a fair chance to choose Ecwid with its 25 years experts globally. It can able to get help from someone working in your time zone when you are looking for quicker development of an online store. You will get an immediate response from a customer support agent while getting Ecwid's 'Venture' plan or higher.
Whereas with WooCommerce, there are complaints from the customer for their support part. It isn't as successful and easy access for users. But with lots of information online, you can get data and guide for WooCommerce online.
5. WooCommerce and Ecwid: Interface and ease of use
When comes to interface, both WooCommerce and Ecwid are doing well and performing their best. So, it is challenging to select one since Ecwid and WooCommerce have different setups.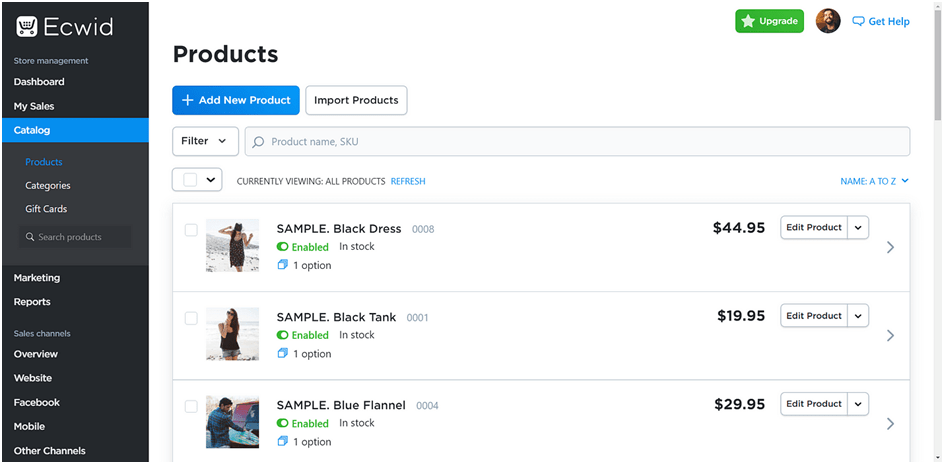 If you choose Ecwid, it provides a standalone eCommerce platform that integrates with WordPress and other website systems. It is simple and easy to navigate as compared to WooCommerce, but there is the downside of Ecwid handling two dashboards.
WooCommerce usually requires many puzzle pieces in the form of extensions, and it's not as sleek of a design as Ecwid. It has a learning curve and is often marketed to developers.
Ecwid's primary interface comes with the benefit of the system that is located on WordPress, allowing for only one dashboard.
Overall for the interface, WooCommerce is excellent for consolidating dashboards, and Ecwid has a stronger store management interface
6. WooCommerce vs Ecwid: Integrations (such as themes and extensions)
What can you imagine from both WooCommerce and Ecwid for the integrations and upgrades?
WooCommerce integrations
Hundreds and thousands of themes are available in WooCommerce. In addition to that, you will get extensions and plugins that are made for WooCommerce.
Most of plugins and extensions allow for accounting improvements, marketing, and social media connections. Please note that the WooCommerce API is open and well-documented.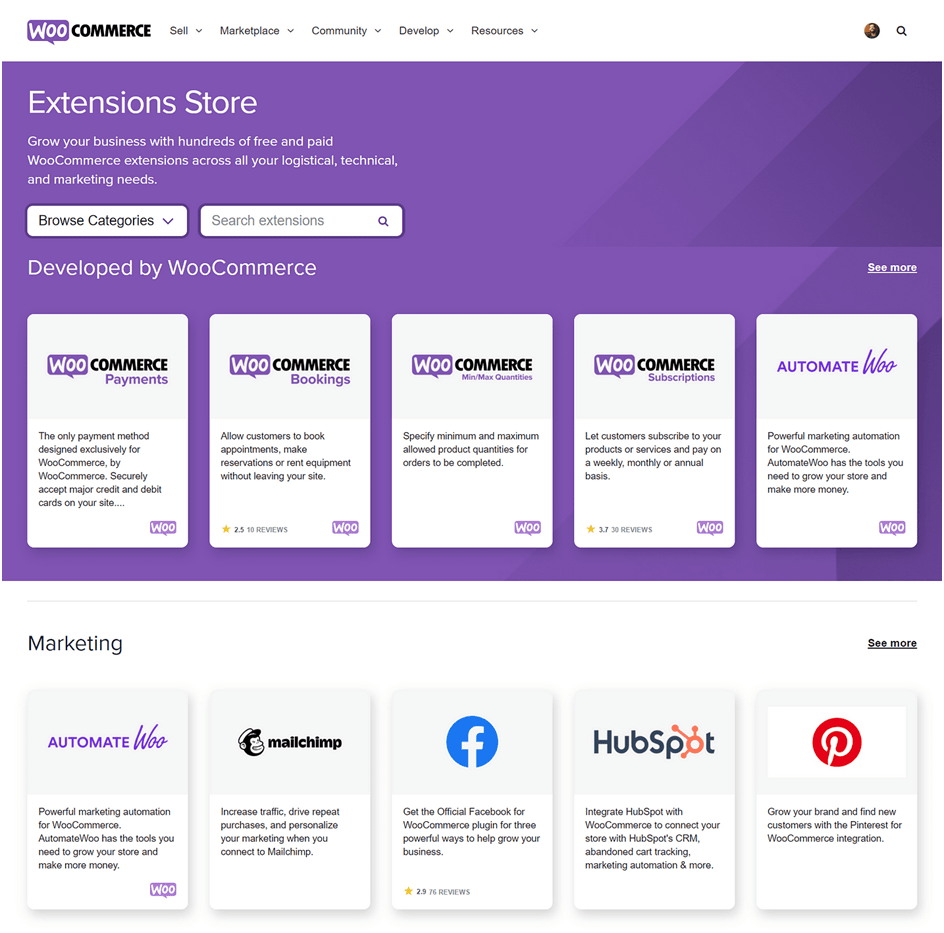 Ecwid integrations
It integrates with any website builder and also helps you get interaction with many social networks. Ecwid platform has an App Market to install extensions for items like accounting, advertising, and marketing.
However, Ecwid's choice isn't as vast as WordPress and WooCommerce. In comparison to elements like themes, it shouldn't be a problem, but there aren't many themes made for Ecwidand it does not offer API access.
Which one wins between WooCommerce and Ecwid?
Here is the summary for the comparison between WooCommerce and Ecwid:
Features – Ecwid.
Interface and ease of use – Ecwid.
Customer support – Ecwid.
Pricing – WooCommerce.
Integrations – WooCommerce.
Ecwid wins 3-2 with WooCommerce but WooCommerce has its huge community support. You will get all the access and support from the FAQ page as well as online sites. It highly depends on your business goals to choose any eCommerce platform for your online store or scalable web development.
WooCommerce assembles the most required features and flexibility for customized website development. If you're looking for a larger store but with minimal capital, go with WooCommerce as it also offers a WordPress dashboard along with a bunch of tools, resources, and integrates.
Ecwid on the other hand offers you an interface and good customer support. I a choice when you are willing to pay for beautiful web design and a stunning online store with dedicated customer support, and features for selling in multiple places.
If you need more information on Website Development, we will be glad to help you.