Are you looking to redesign your Ecommerce Website with a complete SEO checklist to make sure the site is optimized for search engines?  
If you have already launched your eCommerce website or it is still in the designing phase, you must ensure that the website is optimized. It will help you rank your website on search result pages from the beginning.
In this article, I will take you through all the required elements that will help you optimize your eCommerce site with best practices.
Let's get started.
Basic SEO Setup Checklist
Before you begin to start looking for an SEO checklist or contact an SEO agency for your eCommerce website, there are a few tools that you might need.
Here are the necessary tools that you must have for SEO activities:
1. Create Sitemap :

It is hard to find the right elements of your SEO without Google. So, for your website search engine results, Google may not able to find all the pages of your eCommerce website without a sitemap.

A Sitemap is a practice that will help the search engines to search content on your website and crawl it for indexing. It is critical because Google can't rank the content without indexing the website.

Shopify, Ecwid, and BigCommerce are a few Ecommerce platforms that cause the sitemap for stores automatically. And for a WordPress user, you can directly use SEO plugins like Yoast or Rankmath to make a sitemap.

2. Create Robots.txt:-

The next step is to make Robots.txt prevent the search engine from visiting crawling specific pages or parts of your website. Making a Robots.txt file is simple and it is a plain text file that describes the search engine bots where they can't crawl on your website.

3. Make sure to add an SSL certificate :

Search engine rankings are time-consuming due to competition and when you start your website SEO matters. It is said that you need to turn your SEO strategy based on the engine's particular algorithm.

Yet, most e-commerce websites overlook the fact that a website's security credentials can enhance its rankings. I have seen websites not installing SSL and suffer from loose ranking. Search engines like Google understand that websites with SSL certificates are more trustworthy.

Install an SSL certificate, particularly if your e-commerce website handles acute monetary trades.

4. Create a Google Webmaster account :

If you want a complete, easy-access tool to support you for best SEO practices, learn more about your site's SEO data. Crawler access, sitemaps, and URL preferences are the things you must know while creating a Google Webmaster account.

Make one as earlier as possible and then you can configure the settings to your liking.

5. Connect Google Search Console:

The next step for Ecommerce SEO is to connect your site to the Google Search Console. It is a free tool that tracks the performance of your website in Google search. With the help of keywords, your site ranking can be improved as Search Console also keeps you informed of any issues related to page indexing and more that can impact the site ranking.

6. Google Analytics :

Not to forget the connection with Google Analytics. It is the next and important step you follow after Google Search Console. Google Analytics is an analytical tool that delivers data about your website visitors, who stayed on your website, how they interact, and more.

With the help of this tool, you have to sign-up with your existing Google account. Followed by that you have to enter your website details, copy the tracking code and paste it on the website pages that you want to hunt.



Off-Page SEO
Off-page SEO is different from on-page SEO wherein off-page SEO you have more to do with how search engines work for the outside website. From website backlinks to its image, appearance, and how it goes to customers, everything comes in off-page SEO.
For backlinks, one should check whether a site has reliable links from credible sources or not. Google can reject or you may not get expected results with unauthorized or invalid external links. That seems that the more quality and relevant backlinks you have coming from a wide array of admirable sites, the better is your website ranking.
Here are some aspects you should consider for conducting keyword research:
● Search Volume
Search volume is an important metric that helps you determine the size of the market for a particular keyword. Search volume estimates the search traffic or how often queries containing your chosen keywords are made, which can help you determine the most commonly sought-after terms for your business.
● Competition/Difficulty :
Remember that the higher the competition, the harder it will be for your website to rank. Therefore, you should aim for keywords that are relevant to your site but are not too competitive.
● Intent :

Search intent guides the meaning of a search. The intent is the key when you develop a website and content for your audience. It may vary from one phrase to another, but most of the time, intent can be divided into two main categories: Informational and Transactional.

Informational questions guide to more general keywords where users search for more information on a particular topic. In distinction, transactional queries direct to keywords where users have already resolved what they want and are just looking for a specific product.

● Relevance and Difficulty :

Once the intent is set and you have done indexing most traffic-generating keywords, the perilous trap that you can fall into is blindly using any high-volume keywords.

Without considering the purpose or relevance of the high-volume keywords, one can merely rely on pure hopes of magically appearing on top of the search engine results.

Strategizing E-commerce SEO for Your Industry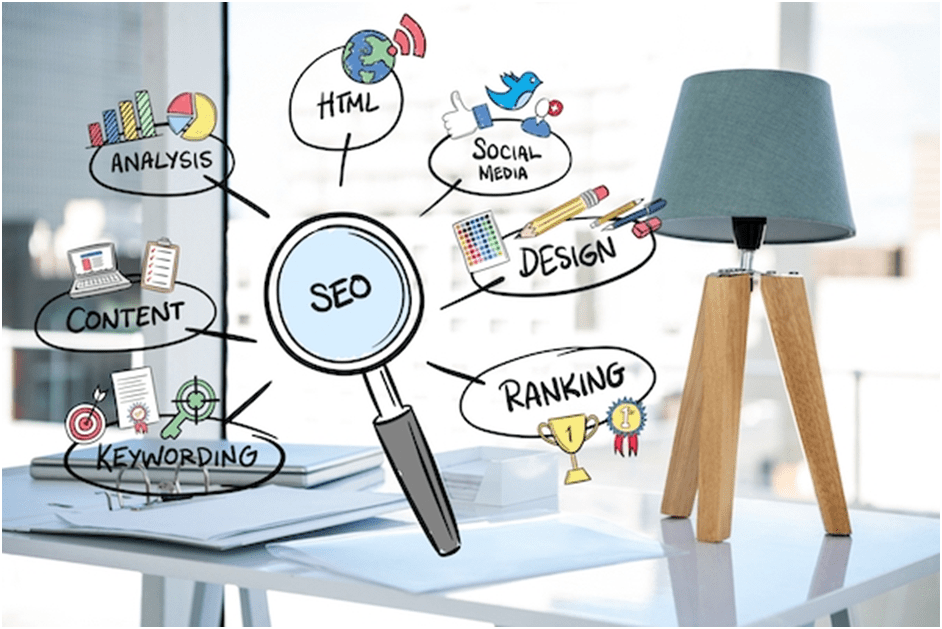 Now that you have all the details for your eCommerce website SEO, you will need an eCommerce SEO strategy. It will help you plan how to craft and position your e-commerce business.
● Know the circle of your competitors and with the help of researched data from other customers' feedback, you can plan steps for your strategy. It will help you boost your e-commerce SEO is an ideal method to learn more about the market and stay ahead of the competition.
● Design a buyer persona and start to know your target audience by developing a buyer persona. With the help of buyers, behavior and how they are reacting to the product will get you to know extensive demographic and psychographic data on your ideal customer base. It will also assist you in identifying the keywords that will drive your target consumers to your product.
Conclusion
Determining a good website presence in the eye of your audience is the key in a competitive market. Ecommerce is a huge segment known and every business is creating their online presence so one has to be very particular for SEO activities that give your website on Google.
Regardless, with the help of a good eCommerce SEO strategy that is obedient to your target customers' needs and Google's search engine ranking factor policies, you can easily place your business at the top of results on SERP. Contact us for a free demo.